Win a Worry Eater (Sorgenfresser!)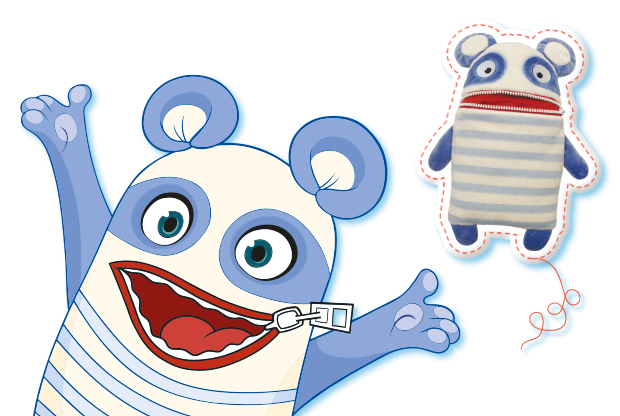 All children have worries or fears. Some are big, some are small, but all of them are very real. Parents do their best to try and help their little ones, but they can't if they don't know what the problem is. This is where the Worry Eaters come in. Children can write or draw their problems on a piece of paper, secretly if they prefer, and put it in the mouth of their favorite Worry Eater. The next step, if needed, involves a parent. Simply unzip the Worry Eater and discover the root of the problem. The Worry Eater's motto is 'We eat your worries', and sometimes with just a bit of help, this is exactly what they do! Check out the website for more information.
For your chance to win Bill the Worry Eater, enter here (contest code: Worry). Contest closes August 31st, 2017.
Gear Up for Back to School With Bixbee® Contest!
Bixbee® Funtastical Backpack: Bixbee's lightweight, ergonomic, and fashionable backpacks are perfect for kids of all ages! With the patented horizontal design with the guidelines set by the American Occupational Therapy Association, not only does this design allow easy access to books and supplies, it also ensures optimal distribution of weight. Contoured and padded adjustable shoulder straps allow for the perfect fit while the generously padded mesh back panels alleviate press points and provide extra comfort. For more information on the Funtastical Backpack and to view the full line-up of too-cool-for-school backpacks, lunch boxes, and more, visit bixbee.com.

For your chance to win the Bixbee® Funtastical Backpack, enter here (contest code: Bixbee). Entry deadline is Thursday, August 31, 2017.
Win Four Tickets to Country Kickback at Heritage Park!
Whether you're a country-living expert, or a bonafide city kid, experience 'How the West Was Once' out on the farm during Country Kickback at Heritage Park!
Don't miss fascinating demonstrations including:
Threshing and baling with steam-powered machinery at our wheat field (weather permitting)
Wheat grinding & other demonstrations at the small engine display with Engine Utopia
Needlepoint, quilting, tatting lace, rug making & other skills with the Chinook Guild of Fibre Arts
If you like to get hands-on, don't miss these amazing activities:
Pet the friendly farm critters provided by Butterfield Acres
Try making rope, or branding a barn board and take home a souvenir!
Churning butter & making ice cream (without a freezer!) - sampling is encouraged!
Grab a partner & spin them 'round at the old-fashioned barn dance
Everyone loves the Kickback Challenge:
Complete the four activities listed below, collect four stamps, and enter to win a family prize pack!
Lassoing
Gymkhana
Egg Find
Bucket Brigade
Finally, get ready for some hand-clapping, foot-stopping fun with live entertainment provided by the Prairie Mountain Fiddlers and Chinook Country Line Dancers! 
Check out the 
website
 for more details!  
For your chance to win 4 tickets to Country Kickback, 
enter here
 (contest code: Kickback)
Contest ends Thursday, August 24, 2017.